이다솔

이다솔은 인조가죽을 사용하여 가죽 특유의 표면 질감을 섬세하게 표현해내는 등 독창적인 방식으로 동물을 위한 메시지를 전달한다. 특히 오브제 시리즈인 은 가죽 원단을 작가만의 방식으로 절개하고 접합하여 멸종 위기 동물의 형상을 표현하는 작업이다. 가죽이라는 소재로 동물을 위한 작품을 만드는 게 아이러니할 수 있지만, 이 소재가 실은 가죽이 아니라 도자기라는 걸 알아차리는 순간 작품의 의미를 몸소 깨닫게 된다. 사실적인 질감을 대면할 때 가죽이라 인지하는 시각과 실제 만졌을 때 도자의 촉감, 두 가지 감각과 개념의 충돌과 괴리감이 작품의 흥미로운 반전 포인트다.
Dasol Lee

Dasol Lee communicates a message of solidarity with animals in an original way, using artificial leather to depict the texture of genuine leather. In her series, From animals for animals, she skillfully cuts and assembles leather-like material to depict endangered animals in a creative manner. Though the use of leather to create art for animals may seem paradoxical, viewers soon discover that the material is in fact ceramic and recognize the deeper significance of Lee's deliberate choice. This realization creates a fascinating contrast between the appearance of leather-like texture and the unexpected tactile sensation of ceramic. The resulting collision and disparity between these two senses and concepts offer a compelling twist to the work.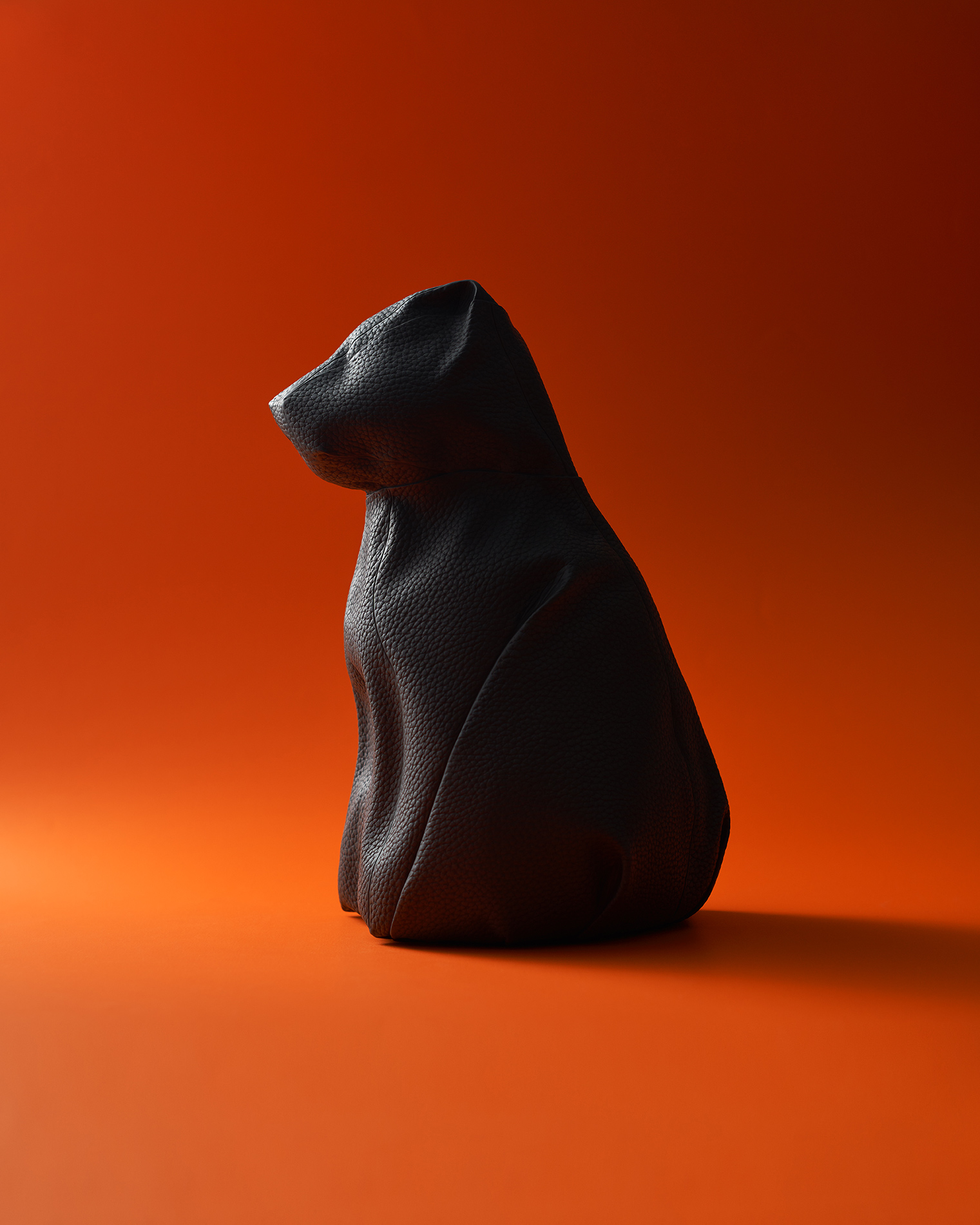 ---
이다솔 (1994-)
서울과학기술대학교 도예학과 학사 학위를 취득하였다. 2021년 ‹즐거운 나의 집›(신세계백화점, 한국), 2022년 ‹필쏘굿›(롤리폴리꼬또, 서울), 2022년 ‹잔생각›(메이크폴리오, 서울), 2022년 ‹2022 서울리빙디자인페어-LEXUS-Re:being›(코엑스, 서울), ‹2022 공예트렌드페어›(코엑스, 서울), 2023년 ‹Happy New Craft›(KCDF윈도우갤러리, 서울) 등의 단체전에 참여하였다. 2020년 LEXUS CREATIVE MASTERS AWARDS를 수상하였으며, 2022년 KCDF 스타상품개발 공모 최종 4인에 선발된 바 있다.
Dasol Lee (1994-)
Dasol Lee received her B.A. in Ceramic Art from the Seoul National University of Science and Technology. She has presented her works in group exhibitions, including My Happy Home at Shinsegae Department Store, Seoul (2021); Feel So Good at Roly-Poly Cotto, Seoul (2022); Little Thoughts at Makefolio, Seoul (2022); Seoul Living Design Fair x LEXUS: Re:being at COEX, Seoul (2022); and Happy New Craft at KCDF Window Gallery, Seoul (2023). She won the LEXUS CREATIVE MASTERS AWARDS in 2020 and was selected as one of the four finalists in the 2022 KCDF Craft & Design Star Product Development Project.
︎